Joined: 24 Jan 2007
Posts: 173
Location: Spain
"part of pack only" sticker
Posted: Wed Sep 17, 2008 7:58 pm
today I noticed two of my games (shadow of the beast and marble madness) have a sticker on the back of the box (lower left corner) that I'd never seen before.
it's stuck on the paper inlay, under the plastic sheet, and it says "part of pack only, not to be returned separately", as you can see on the pic.

for more info, these two were purchased in the UK, maybe this is as common as a cow, but I'd never seen this. anybody knows what the sticker means or where does it come from?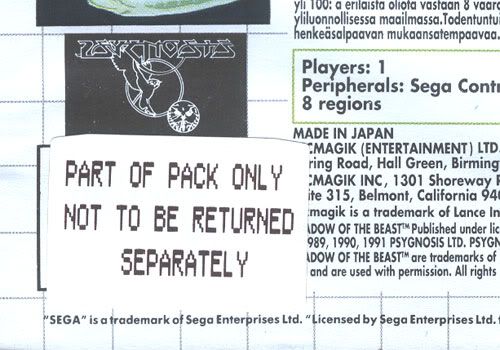 Joined: 12 Feb 2006
Posts: 194
Location: Wales
Posted: Wed Sep 17, 2008 9:43 pm
They are quite common, I have several games with those stickers myself. I believe they came from Toys R Us doing their own console bundles, but they could have come from other shops too I suppose.
Joined: 27 Apr 2005
Posts: 420
Location: Australia
Posted: Wed Sep 17, 2008 10:49 pm
I've got a Mega Drive Columns and Altered Beast both with a sticker over the barcode area that just says 'BONUS'. My SMS Sonic 2 pack-in has one that says 'AFP12'.
Joined: 17 Dec 2005
Posts: 524
Location: England
Posted: Thu Sep 18, 2008 5:27 am
Here are some I have..

Golden Axe




GP Rider




Marble Madness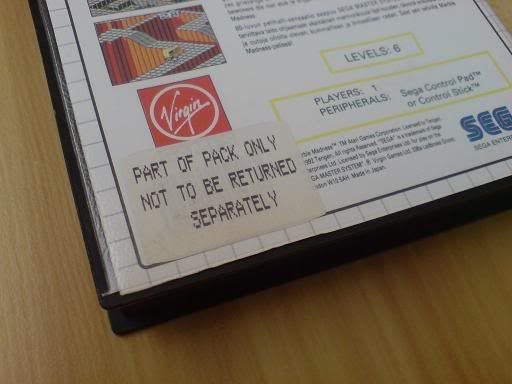 Master of Darkness




Pit Fighter




Shadow of the Beast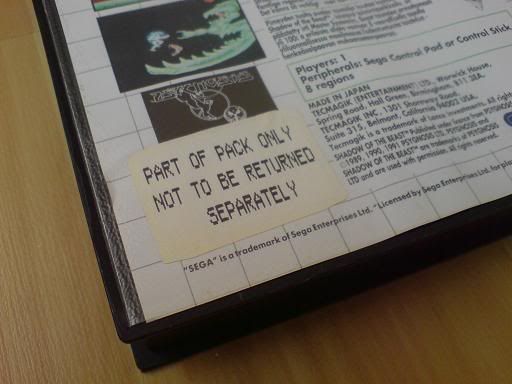 Sonic the Hedgehog




Space Gun




Strider II




..and 'Not to be returned separately'

SCI




Spider Man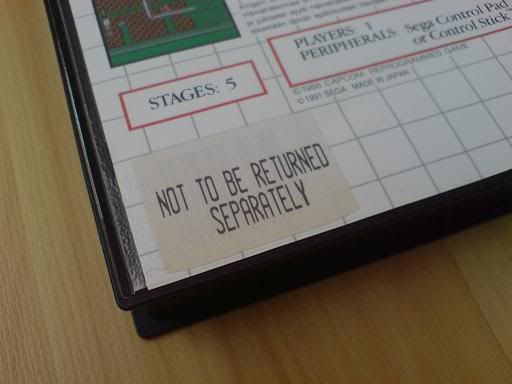 Lucky Dime Caper (Gift pack)




Lucky Dime Caper & New Zealand Story (UK Telstar Double Pack)




Couple of other random stickers..

American Baseball




Rambo II




World Games (Aus)